TRUNDEAN Machinery makes a good example on developing roots blowers for blower industry by launching the new Pressure Conveyance Roots Blower, which features Low Noise and Minimal Vibration.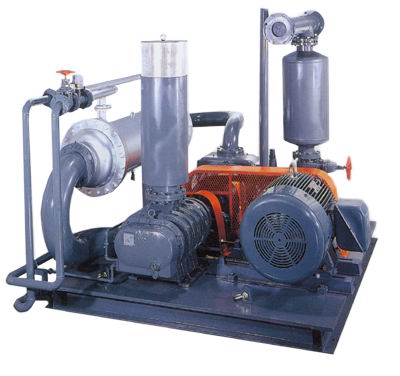 TRUNDEAN Pressure Conveyance Roots Blower - THL series adopts the most advanced method, One Time Work Process Four Shaft method, for processing blower impellers; not only it reduces human errors, but also enhances impellers precision and increases blower efficiency. The Pressure Conveyance Roots Blower is widely used in many kinds of industries, such as petroleum, metallurgy, power, mining, building material, chemical, fertilizer, paper-making, port, light industry, food, environment protection, aquatic farming, city gas and medicine, etc.
THL Type roots blower is one of the outstanding work made by Trundean Machinery Industrial Co., Ltd. in 90'. This roots blower's air compartment and the side cover both are equipped with a flange and a groove rim, which help to enhance the THL Type roots blower's operational functions and prevent the eccentric phenomena happened when we fastening the stud. Besides, each rotor keeps an appropriate clearance from others, and each rotor has the casing to avoid collision occurred in operation, thus there is no need to lubricate it. Only the synchronous gear drive system and the shaft bearings are the two parts need lubrication; but the separated lateral chambers are well designed to house these two moving parts with proper seals, so that it can prevent from oil leaking into the main chamber.

Moreover, noise decrease and vibration reduction are the main priorities in developing the new series of roots blower. THL Type roots blower (Pressure Conveyance) is no doubt the perfect combination of these two advantages. Trundean roots blower can efficiently reduce noise by approximately 5 dB, and its "Less vibration design" helps to prolong the bearing's life by 20%. The specification of this THL TYPE blower is below:
THL Type roots blower (Pressure Conveyance)
Specifications:
2-section series
Applications of the Pressure Conveyance
The maximum pressure:2 kgf/cm²
Applications of Vacuum
650 mmHg in a vacuum
Trundean Machinery is not only dedicated in developing new technology of Roots Blower , Magnetic Drive Pump , Submersible Blower, Vacuum Blower , Vertical Blower and Ring Blower, but also willing to provide customers technical consultancy service to solve their technical problems. In addition, in the QC of finished products, Trundean established a computer control test system for all of roots blowers, which have obtained ISO9001 certificate of quality management control. Trundean Machinery Industrial Co., Ltd persists in the policy of "customer first, quality first, service first", Trundean sales representatives would like to share their experience about blowers with you, please email to blower@trundean.com or website:http://www.bestrootsblower.com directly for more product information. Trundean sales representatives will be glad to assist you any time.
Contact Details:
Company: Trundean Machinery Industrial Co., Ltd..
Sales Contact: Felix Wu
Address: No.101, Lane 861, Fuguo Rd., Taoyuan City, Taoyuan County 33046, Taiwan (R.O.C.)Country: Taiwan
Tel: +886-3-323-8288
Fax: +886-3-323-8959
WebSite:http://www.bestrootsblower.com
Email: blower@trundean.com
THL Pressure Conveyance Roots Blower wins high praise in the international community.